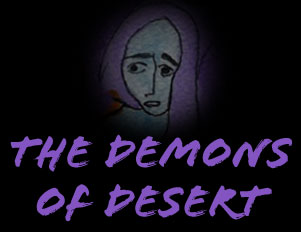 By Nisar Khan
The light has always been considered as sensitive and intelligent while darkness as blind and ignorant force. The darkness created dragons, monsters, evil and evil spirits. There were sorcerers whose evil influence was applied on earth and there have been white magicians, fairies and courageous heroes. Then there has been intermingling of these two powerful forces of light and darkness – Sirens, attractive and dangerous at the same time.
The history, religious scripts and mythology is crowded with all such forces and struggle between them.

The Jinni of desert called "Foot licker" attacks those, who sleep in the desert and kills his victims by licking the sole of the foot.
The saga of "Aladdin and the lamp" balanced foot licker.
Magic, white or black, evil or good, all pair of opposite in the end, all things become human's allies.
The feverish images called the Demons of desert.
Nisar Khan
Painter, artist and illustrator Nisar Khan stationed in Stockholm. After several collective exhibitions, his first solo art exhibition called the " world of Nisar Khan " was staged in 1993. These days he is involved in a serie of web exhibitions. After " Original version" appeared, "Just a dream" and forth-coming exhibition is called respectable offenders. Artist available for free-lance assignment.