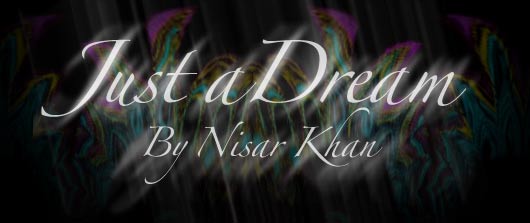 September 2006
Half way between relaxed wakefulness and first stage of sleep, I found myself sitting on a beach and a tiny golden fish touched my feet. In fascination I looked to the wonderful creature, put both hands in the water and delicately lifted it up, the fish still swimming in the water on my palm. A ray of sunshine touched it and the fish dissolved, leaving gold coloured water dripping from my palm to the pillow.
Dazzling bright colours, golden sunshine in the middle of night or mystic dark moonlight, currency of salt or gathering of old and new souls taking music bath and some desert demons — these are few of my successful and unsuccessful dreams.
It is a world of dream, without blame or guilt, without moral dilemmas, without any ethical implications and where is no concept of deviant behaviour. A world where only arbitrary norms prevail and a world which can provide you a vivid sense perception — A magic world.
Every home has its own magic crystal ball and watching events directly from every corner of the world. Flying carpets are transporting millions of passengers and tons of goods all over the world. Telephones and IT technology are transmitting thoughts. We brought a lot of magic from our dreams and made magical phenomena a part of our technological world.
I dream about spatial awareness, people possessing ethric visions, about an educational system where science of sounds, science of lights, science of colours would be taught as a subject. A dream of sensory photography to photograph thoughts.
I dream about a non-violent world, a world with whole new economical structure and a world without racial barriers.
I dream that work of building forms would be understood in its true sense, a new interpretation of atom and a world where physical eye would be able to see the spatial energies underlying material substances.
A world where soul would be recognised, where there would be specialised healing hospitals, the sick would be brought to perform rituals and sleep in healing chambers and symbolic operations would be done in visionary dreams and sick would wake healed — a world with new order.
But it is just a dream.
Nisar Khan
Painter, artist and illustrator Nisar Khan stationed in Stockholm. After several collective exhibitions, his first solo art exhibition called the " world of Nisar Khan " was staged in 1993. These days he is involved in a serie of web exhibitions. After " Original version" appeared, "Just a dream" and forth-coming exhibition is called respectable offenders. Artist available for free-lance assignment.